Blog Archives: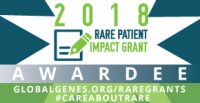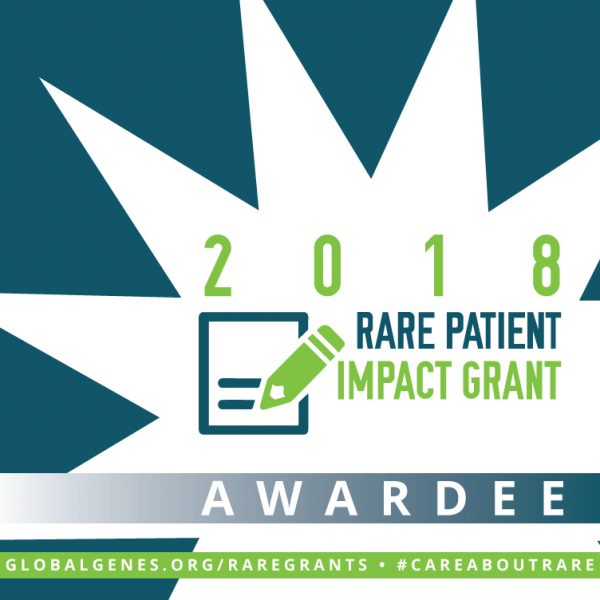 cureCADASIL was awarded a 2018 Global Genes RARE Patient Impact Grant to support expansion of the CADASIL Connection Webinar Series! CADASIL Connection is a webinar speaker series of researchers and clinicians from the CADASIL community invited to present their work in CADASIL. With the help of Global Genes, cureCADASIL will be able to educate researchers, clinicians, and patients on current research in CADASIL. Additionally, with the support of this grant cureCADASIL will be able to launch a new CADASIL Care webinar in late 2018 on topics of importance to patients and families. Look for communications from us in the near future to help decide potential webinar topics!
Global Genes initiated this grant program in 2016 to support rare disease organizations looking to fund projects that will make a difference in the lives of rare patients and caregivers in the US.  cureCADASIL is a
Global Genes RARE Foundation Alliance partner
and was previously awarded a Rare Patient impact grant in 2016 to increase awareness of the
CADASIL Family Registry
via local meet ups or "Registry Rallies" which took place across the United States.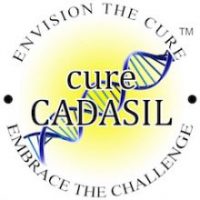 Exciting progress is being made in
 understanding mechanisms of CADASIL mutations in disease expression, leading to identification of potential disease-modifying therapeutics and disease biomarkers.
To highlight these advancements cureCADASIL Association is hosting
CADASIL Connection
an online series of three informative webinars that will be unique opportunities to educate and connect the audience of researchers, clinicians, and patients on current research and developments in CADASIL.
Our first webinar will be held via webconference:
Tuesday, August 1, 2017 at 7:00 – 8:30 p.m. (EST)
Registration available at: 
After registering, you will receive a confirmation email with information about joining the webinar.
After the webinar, a recording will be available at cureCADASIL.org.
 Irene Griswold-Prenner, Ph.D.

cureCADASIL SAB member and Co-founder & Chief Scientific Officer of Imago Pharmaceuticals, will kick-off the series with an overview of the known potential therapeutics for CADASIL that are in early proof-of-concept stage.


Li-Ru Zhao, Ph.D., M.D.
tenured Associate Professor, Department of Neurosurgery, State University of New York (SUNY) Upstate Medical University, recipient of the 2017 Bernard Sanberg Memorial Award from the American Society for Neural Therapy and Repair, will present:
Exploring a therapeutic approach for CADASIL:
                          The efficacy of bone marrow stem cell factors in brain repair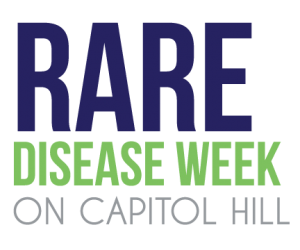 Feb.27 – March 2, 2017
Over 600 Rare Disease patients, caregivers, researchers and advocates met in Washington during the course of the week. 350 advocates attended the Legislative Conference that was held on Tuesday, Feburary 28th. Through out the day experts from Capitol Hill and the patient advocacy organizations discussed what to expect from the new Administration and Congress for the coming year. 328 Rare Disease Advocates participated in a total of 270 Lobby Day Meetings where Representatives were asked to join the Rare Disease Caucus as well as discussing issues involving Health Care Reform and incentives for rare disease drug development.
Janice Ragazzo, Trustee from the cureCADASIL Association attended these meetings. Over the course of 3 days, Janice had arranged meetings with many N.Y Representatives, Senator Charles Schumer and Senator Kirsten Gellibrand's office to discuss the important topic of petitioning the CDC to have an ICD-10 code assigned for CADASIL. She also delivered patients stories that she received from the CADASIL support group to each of their state district representatives and spoke to their health legislative aides.
Janice also attended the day long seminar provided by the RDLA to enrich and update the Rare Disease Advocates on many topics that have an effect of Rare Disease patients. Some of the subjects discussed: New Funding for the NIH, Health Care Reform, Rare Disease Funding Issues.  Top Health Policy issues were also discussed such as the Orphan Product Extensions Now, Accelerating Cures and Treatments(OPEN ACT), Rebuilding and Expanding the Rare Disease Congressional Caucus, Newborn Screening and Understanding the Clinical Drug
During breakout sessions Janice was able to learn how to become a more effective advocate on Capitol Hill. Through her follow ups with those she encountered she was able to get Congressional Letters of support to request that CADASIL receive an ICD code sent to the CDC from the offices of Representative Sean Patrick Maloney 18th District N.Y. and Representative Paul Tonko District 20. Also, after meetings with Emil Kakkis, President and Founder of the Everylife Foundation, Julie Jenkins Executive Director and Max Bronstein, Chief Advocacy and Science Policy Officer a personal letter of support was sent to the CDC Maintenance Committee on cureCADASIL's behalf.
Janice with Emil Kakkis – President EVERYLIFE FOUNDATION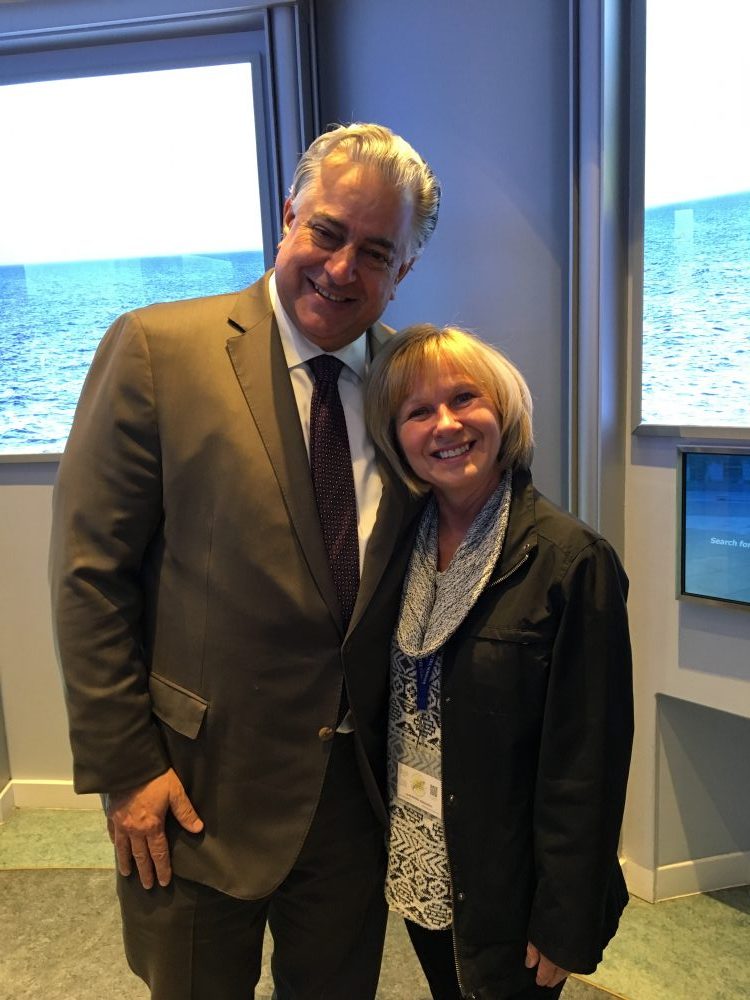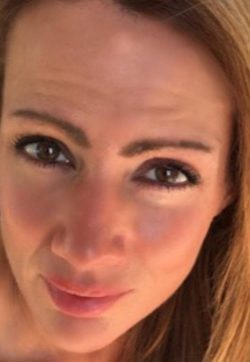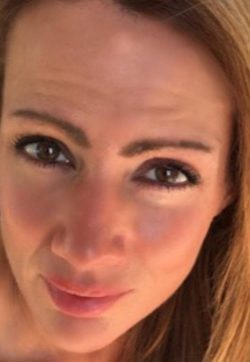 Tami
Kansas, USA
Age 44 at diagnosis
Editor's Note: Tami was confirmed for having the CADASIL mutation in early September 2017, and shared her story a short time later. Thank you, Tami, for your willingness to talk about this so soon. (This piece is edited from her posts in CADASIL Support Group on Facebook.)
Tami's Story:
Although I expected to hear that I had CADASIL, actually being diagnosed was still tough to swallow. Once I thought about it, though, I realized that nothing has really changed. Yes, I have it. Does that make me any different than I was before the diagnosis? Absolutely not. Since it's a condition we are born with, why should me knowing change who I am? The only difference is that now I know, so I have the opportunity to make healthier decisions and try my best to avoid stress and things that can expedite symptoms.
I've been healthy my whole life, but after a recent TIA, I realized something was wrong. By continuing to eat healthy, exercise, and try to minimize stress, why can't I still be as healthy as possible? I realize each person is different and has various symptoms, but I believe a positive attitude plays a huge part in being healthy. I believe there is hope. We can't change the fact that we have this disease, but by realizing we've always had it–it didn't just show up out of the blue—we can at least try our best to get through it.
I find comfort in knowing that I've been ok for this long, and that it was bound to rear its ugly head eventually. Ignorance can be bliss, but knowledge really is power. We can't control the disease, but why give in and let it control us?
I'm sure some people reading this are thinking to themselves, "Just wait… You may not feel this way next month, next year, etc." I certainly don't expect things to be easy, but why complicate it more by focusing on the negatives? Make the most of the positives in life and take control of what you can. Accepting I have this disease isn't the same as embracing it. Life isn't easy, but I firmly live by the belief that there are enough stresses that we can't control, so the best thing we can do is eliminate the stresses we can.
Every day is a blessing. Nothing is promised.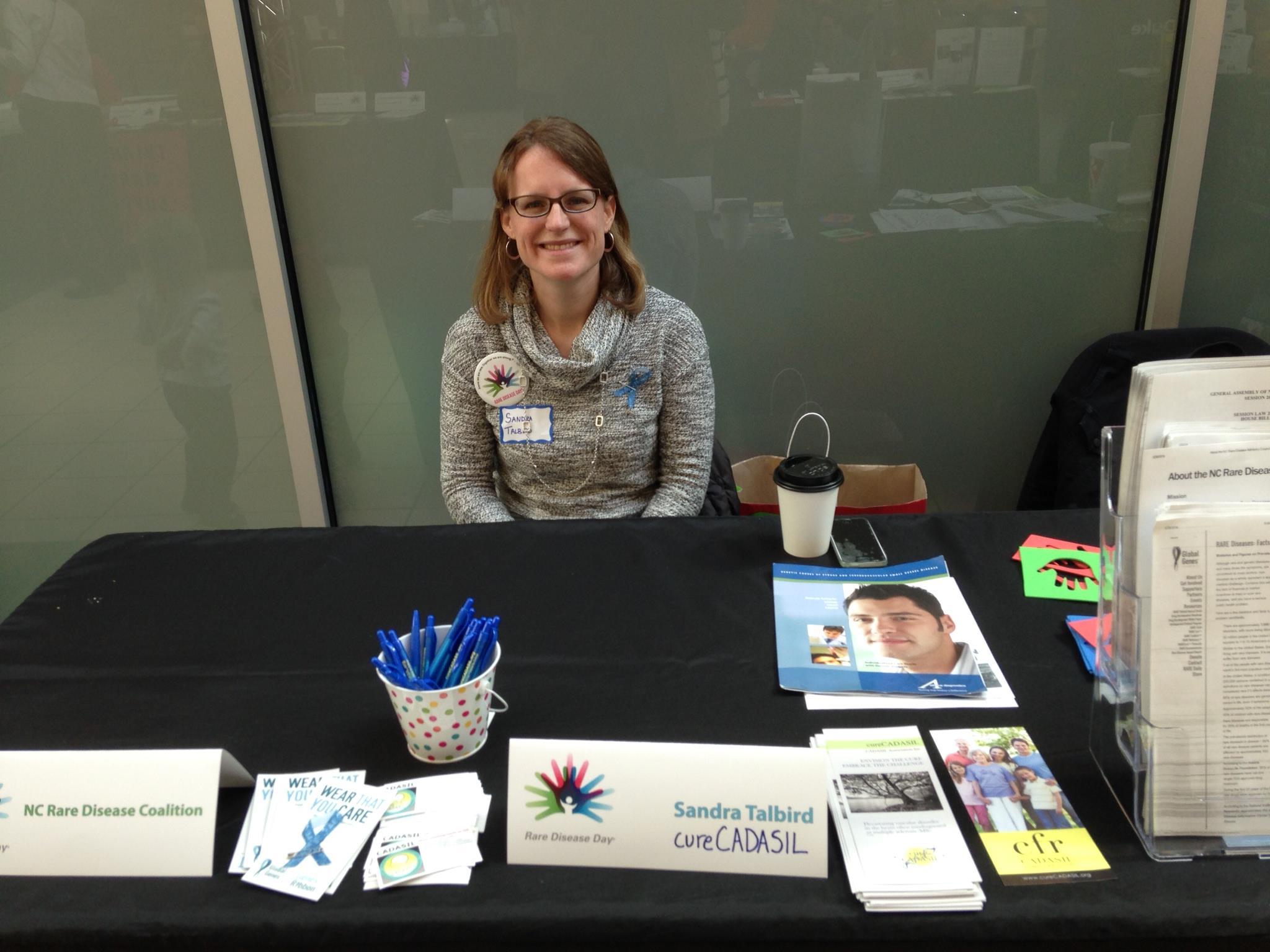 cureCADASIL Associate Trustee Sandra Talbird joined the newly formed NC Rare Disease Coalition last Fall. The Coalition is made up of rare disease patient advocates representing a variety of rare diseases, with CADASIL being the only adult-onset disease currently represented. The Coalition's mission is to advance the interests of the State's rare disease community by advising the NC Advisory Council on Rare Disease (a legislative body made up of appointed members).
Sandra participated on behalf of cureCADASIL and the NC Rare Disease Coalition in a Legislative Event on June 7, 2016 to thank the NC legislators for passing House Bill 823, which created the NC Advisory Council on Rare Disease last August (2015). North Carolina is the first state to pass a law creating an Advisory Council on rare disease, although other states including New Jersey and Utah have similar statewide advocacy groups. The June 7th event was successful in terms of making connections with other rare disease organizations, the local media, and potential research collaborators, including the UNC Gene Therapy Center.
You can get additional information about NC Rare initiatives on their webpage by clicking here.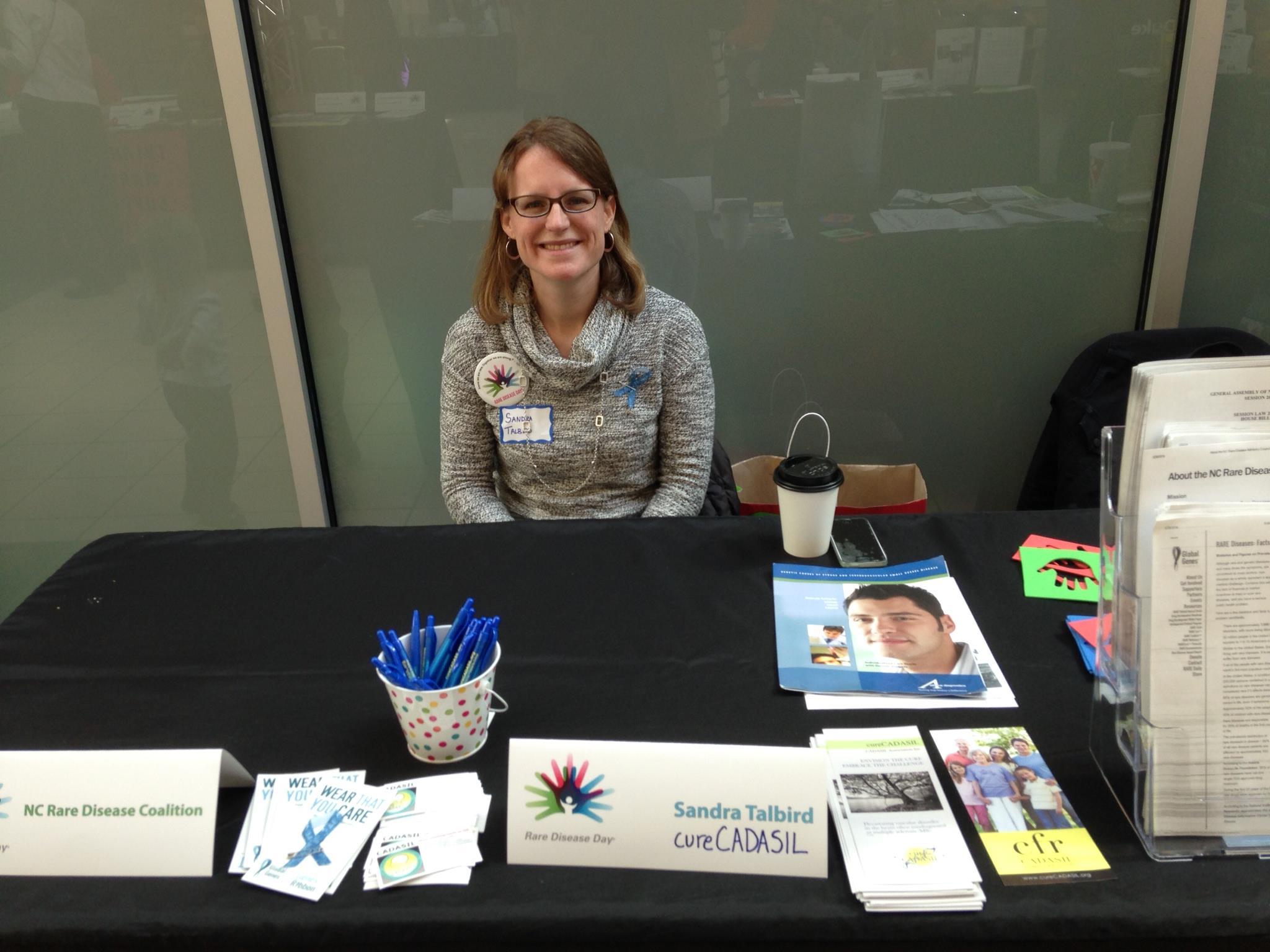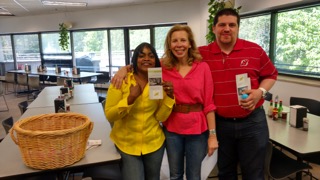 In May 2016, Tony and Janice Ragazzo helped organize a fundraiser at ESM Ferolie in New York, where Tony has worked for many years. The employees really pulled together and raised $550. The Ferolie Family generously matched what was raised, bringing the total donation for  cureCADASIL to $1100. We are so very thankful to the efforts of this company and family for supporting CADASIL research!  Great job!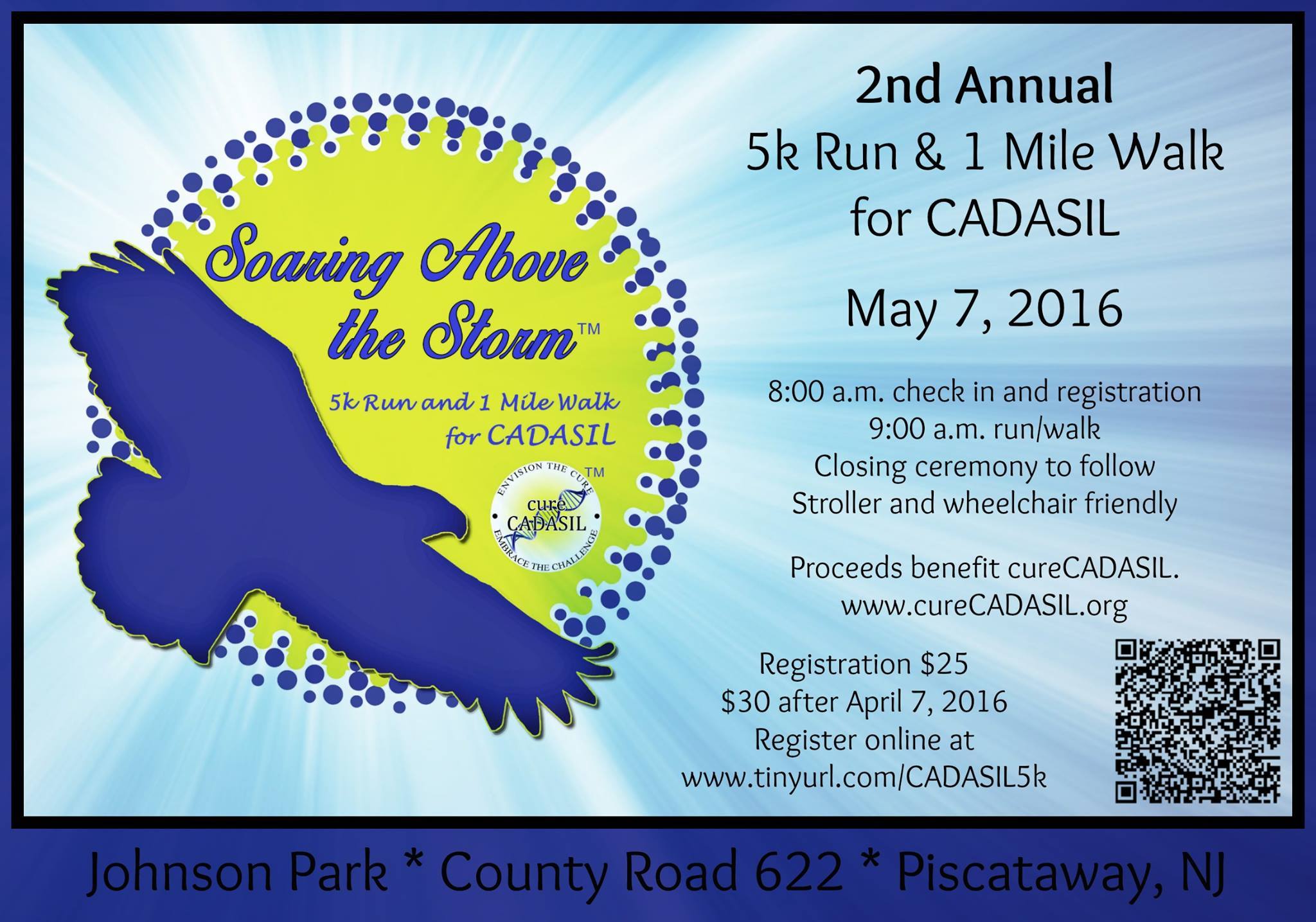 On May 7, the 2nd Annual Soaring Above the Storm 5K Run & 1 Mile Walk took place in Piscataway, NJ. Runners and walkers showed up regardless of the wet and cold weather! Thank you to all sponsors, participants and donors, in-person and virtual, who supported the event this year! Special thanks you to Linz Culcasi and Kathy Montgomery for your time and efforts organizing this fundraiser!
There was a CADASIL patient photo board created for the first 5K event in 2015.  It was displayed again for the 2016 event.  An additional photo board was displayed this year with new photo submissions. The photos show CADASIL patients from all around the world.
Member and patient Vanessa Prontnicki was the spokesperson for the 2016 event. She is shown to the left with her husband Jeff. Her uncle Bill Hall wrote on her Facebook post after the event: "Vanessa….
Runners and walkers who could not attend the event in New Jersey joined and participated in their local areas as "virtual" events.
Above left: Bruce and Henna participating from the Pacific Coast in California
Above right: Robin Russell Wilson participating in Salt Lake City, Utah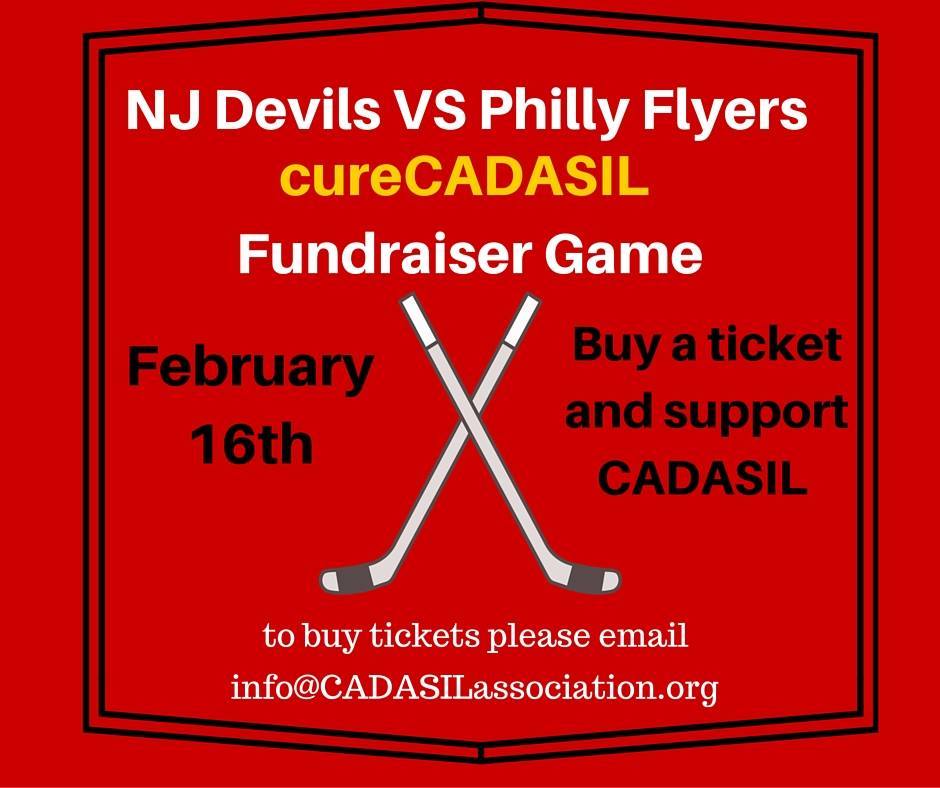 On February 16, 2016, cureCADASIL was the Community Assist organization during the New Jersey Devils vs. Philadelphia Flyers Hockey Game. This was our second year to participate in this event that brings awareness and donated funds to CADASIL. cureCADASIL Trustees Janice Ragazzo and Anne McGuinness did a great job and had fun raising awareness for CADASIL at the game!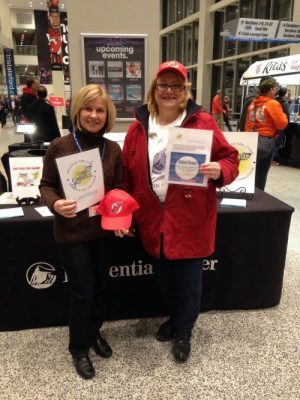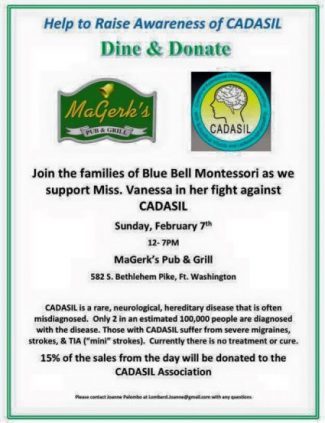 On February 7th, 2016 CADASIL patient Vanessa Prontnicki was honored at a "Dine & Donate" fundraiser organized by parents from the school where she teaches. Over $1200 in proceeds raised at MaGerk's Pub in Fort Washington, PA that night were donated to cureCADASIL. About 200 people came out for the event, and it was televised in the local area. MaGerk's also donated 15% of their receipts.
You can see the video clip of Vanessa's event and interview here:
Local news interview with Vanessa
A huge thank you to Vanessa and her supporters for making a difference in the fight against CADASIL!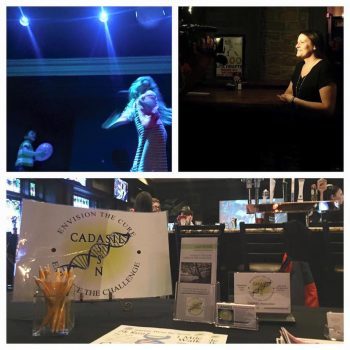 Rare Disease Report is a website and weekly e-newsletter that offers an independent voice for the Rare Disease Community. It strives to bring together medical, scientific, investment, regulatory, and advocate professionals interested in rare diseases and orphan drugs. Recently the work done by cureCADASIL was spotlighted by RDR.  We are excited for this opportunity to share our programs with the rare disease community.
Spotlight on CureCADASIL
Ruth J Hickman, MD
Published Online: Saturday, Apr 23, 2016
"CureCADASIL (also known as CADASIL Association) is a nonprofit group dedicated to raising awareness of the rare disease cerebral autosomal dominant arteriopathy with subcortical infarcts and leukoencephalopathy (CADASIL). Through the aims of communication, advocacy, research, and education, CureCADASIL is working to improve the lives of those affected by the disease."
This is just the introductory part of the article. Please read the full article spotlighting cureCADASIL at this link:
http://www.raredr.com/news/spotlight-on-curecadasil