Getting to Know Dr. Joe Arboleda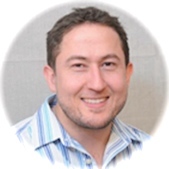 Dr. Joseph F. Arboleda-Velasquez was introduced to the field of study of SVD (small vessel diseases) as a medical student in Colombia, South America. He worked under the supervision of internationally recognized neurologist Dr. Francisco Lopera in the clinical characterization of two large Colombian families with CADASIL. Joe (as he prefers to be called) has had his clinical work reported in several research publications.
Joe came to the USA in the year 2000 with the goal of becoming a scientist. He has worked in laboratories and programs at Brigham and Women's Hospital and at Harvard Medical School. He joined the Schepens Eye Research Institute in 2010 as a post-doctoral fellow to study the role of cell-cell interactions in diabetic retinopathy. Joe was appointed as Faculty Investigator at Schepens in 2012 to begin his independent scientist career. His current research includes cell signaling and the pathobiology of small vessel diseases (CADASIL). Please view his professional website at: http://www.schepens.harvard.edu/arboleda
Karla Smith recently interviewed Joe:
How did you first learn about CADASIL?
While I was in medical school my research mentor introduced me to a family that he thought had CADASIL because they suffered from stroke and vascular dementia. I decided to work with this family as part of my internship to help them uncover the cause of the disease.
Why are you interested in CADASIL?
I feel very committed to help the families with CADASIL because I know firsthand about their suffering and see how committed they are to help each other.
What kind of research have you done for CADASIL?
I have worked on many aspects of CADASIL over the years. I started doing genetic work to identify mutations in Notch 3 associated with CADASIL. Later, I did some molecular work to study how CADASIL mutations affect the Notch 3 receptor. More recently, I developed animal models of CADASIL that can help us to deepen our understanding of this condition and test therapies.
What kind of research are you doing now for CADASIL?
Now my work is focused on testing drugs that could help in treating CADASIL. Specifically, I am testing the effect of drugs that modulate Notch 3 activity on mice that suffer from CADASIL-associated changes. This work is now being conducted on laboratory animals to test for safety as well as efficacy.
Do you have any family members or friends who have CADASIL?
My father was recently diagnosed with dementia. In many CADASIL patients, the multiple stroke events lead to dementia. My father's condition is stable now, but having my own father suffer from dementia helped me to get very close and identify with the CADASIL community.
Have you written any articles on CADASIL?
I have published several articles on CADASIL and many others on the roles and functions of Notch receptors, one of which is affected by the CADASIL mutations. Writing is also my passion and thus I look forward to writing much more about CADASIL and help many patients this way.
This article and interview was originally featured in the December 2012 Inaugural issue of EMBRACE newsletter published by CADASIL Association.  Thank you to Karla and Dr. Joe Arboleda for this article and their dedication to CADASIL awareness.