On June 6, 2015 I went out to breakfast with my 2 daughters and my eldest daughter's college roommate. I felt a little off that morning, and as we sat to eat I continued to feel strange and my left arm started to function oddly. My daughter called 911 and a group or customers sitting nearby came and checked on me. Fortunately, this group consisted of several paramedics and an RN who identified that they thought I may be having a stroke. After being rushed to the hospital it was diagnosed that I had in fact suffered a stroke. I was 47 years old.
The odd thing was I had no warning signs, no obvious symptoms, and no clear-cut cause. My cholesterol level was borderline high, but my doctor said if I had come in prior to my stroke he would have said eat better. Tying in my relatively young age my doctors were not sure what was going on. As they began going through my family history, my father shared that my mother had passed away in 1988 at the age of 45 and he still had all her medical records. He brought them into my Nurse Practitioner who studied them and came in the next day with a potential diagnosis…CADASIL.
While I worked on recovering from my stroke, my wife did research on CADASIL.  One of the primary resources she found was cureCADASIL.org which provided us with the NIH definition of CADASIL (Cerebral Autosomal Dominant Arteriopathy with Sub-Cortical Infarcts and Leukoencephalopathy).  The two main concerns we faced as a family if I did have CADASIL was that it is incurable and secondly there was a 50% chance that our daughters could also have CADASIL. While my wife continued researching CADASIL and reaching out to some social media support groups, I remained focused on in-house and outpatient rehab from my stroke and I focused on my mobility and getting back on my feet. I was not focused on whether I had CADASIL.
That changed on August 17th, 2015. As Charles Dickens said, "It was the best of times, it was the worst of times." I woke up that morning to find out my step-daughter had just delivered our first grandchild followed by a phone call a few hours later to inform me that yes, I was officially diagnosed with CADASIL.
At this point I had to face the reality that I had a genetic disorder and I could mope around and get depressed or focus on learning more about my condition. I joined some of the social media sites my wife had researched, and began to learn more about how others were handling their situations; how their caretakers were handling things; and most importantly how was I going to handle everything.
From cureCADASIL.org, I began to learn more about the disorder and the challenges the CADASIL community face through limited funding for both awareness and research, limited knowledge from the medical community as well as our governmental leaders, and limited understanding of the disorder as a whole.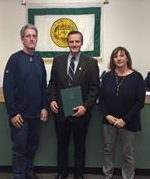 With that in mind and knowing that at this point I am healthy enough to get involved I started to think of things that I could do to help raise awareness and hopefully funds to support the CADASIL community. The first step was actually quite easy. I thought of something I like to do, in this case watch sports, and tried to figure out a fundraiser that allowed people to enjoy an event while supporting a good cause.
What triggered me in the first place was noting a fundraiser set up through the New Jersey Devils of the National Hockey League over the last couple of years. Since the Devils Minor League team was based near me in Albany, NY and with the help from the NHL team I was able to set up a game where a portion of all tickets sold where given to cureCADASIL!  
With the one fundraiser down, I reached out to our minor league baseball team and scheduled another game which included tickets, an all you can eat buffet, and a complimentary baseball cap. Just before the game I contacted my local weekly newspaper to share my story as well as the fundraising information. They ran an article within two weeks again helping to spread awareness.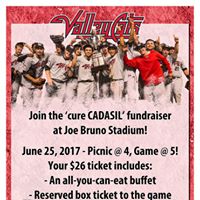 With the success of the first two fundraisers, I certainly felt I was helping the cause; and spreading awareness within my community. The next step was getting involved on a larger scale and that opportunity was presented to me by cureCADASIL when I was contacted to see if I would get involved with their first online auction. My role was to try and acquire donations to bid on from local establishments in my area. This was an area I was less comfortable in; asking others to give.
Fortunately I found out quickly three things. By asking for support the worst thing someone can say is no. Secondly, local businesses are happy to give back to their community; and thirdly by simply sharing your story people will respond. Once I had a little success on the local area I again tied in my love for sports and I reached out to minor league and major league teams around the country. I found the exact same results; people will say no; many businesses will support but most importantly people want to hear you story.
So you have heard my story. In my case, I got involved with cureCADASIL, which is an action oriented patient advocacy nonprofit dedicated to CADASIL awareness, education and research with the ultimate goal of finding a treatment or cure for CADASIL.
In the short time I have been involved with them, they have since developed research webinars in hopes of uniting and inspiring CADASIL research. This is just one example of a large undertaking by a couple of devoted volunteers that will have an impact.  
Granted no one wants to be the story when it comes to rare disease but it is your story and your story deserves to be heard.
2018