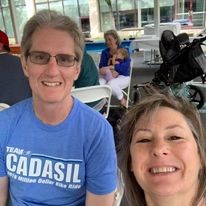 In June 2015, Michael suffered a stroke. He had no risk factors, but he did have a history of migraines with aura, and his mother died at the age of 45. Michael was diagnosed with CADASIL in August 2015, and his brother was diagnosed in December 2017. Since then, Michael has been tirelessly raising money for research to find a cure for CADASIL.
He has actively participated in the Million Dollar Bike Ride for the past 4 years. He and his supporters have raised over $16,500 for the CADASIL research supported by this program.
In the past three years he has also published three children's books: Billie's Vacation, Tucker's Surprise, Piper's Pals and a fourth, Gracie's Gang is coming out this fall. The proceeds from these books have all gone to funding CADASIL research. Visit his website.
He and his family have also organized over ten other fundraisers, including: "Board & Brush" nights, as well as events through the Albany Devils (top affiliate of the New Jersey Devils of the National Hockey League), the Tri-City Valley Cats (Class A affiliate of the Houston Astros), the Albany Empire National Arena League professional football team), Save Around Discount Books and two online Auctions.
These are model efforts illustrating how local fundraising teams can make a difference.
If you are interested in donating directly go to: Donate to cureCADASIL – cure CADASIL,