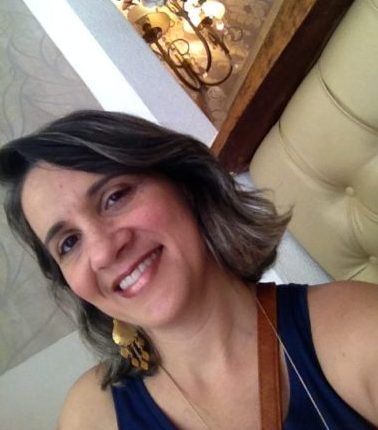 Karla is a 42-year-old administrative manager of a luxury residential condominium complex in Brazil who has been living with CADASIL for almost two decades. She was 24 when she first started having health problems, starting with high blood pressure. Then came headaches, forgetfulness, and some loss of strength on her left side.
Her doctors—cardiologists and neurologists—thought she had hypertension. Or perhaps multiple sclerosis, which is often heard in stories of CADASIL patients. Then in 2006 she had a stroke, followed by a second event in 2013.
At the same time her mother was also facing health problems—headaches, micro strokes and some paralysis. This prompted a series of genetic testing, finally identifying the disease in both women as CADASIL.
Unfortunately Karla's mother died in 2018, three months after Karla's CADASIL diagnosis. Karla continues to work, although a third stroke at the beginning of 2018 left her with some cognitive deficits. She says she manages day-to-day with prescription drugs, including antidepressants. She also sees a therapist.
"I drive, take care of my house. I am tired, but still working," she says.
To date neither Karla's grown children, ages 19 and 23, or additional family mem bers show any symptoms of the disease.
"I'm still getting used to these new barriers. The commitment of the scientists and knowing that I will make myself available for testing" gives her hope, she says.
---
We at cureCADASIL are so thankful to Karla for sharing her international story so she can help others as she says others stories have helped her.  We also thank our volunteer Joyce for assisting with this story.
cureCADASIL.org – December 2018
Karla é gerente administrativa de 42 anos de um condomínio residencial de luxo em
O Brasil vive com CADASIL há quase duas décadas, embora permaneça sem diagnóstico há muitos anos. Ela tinha 24 anos quando começou a ter problemas de saúde, começando com alta pressão. Então vieram dores de cabeça, esquecimento e alguma perda de força em seu lado esquerdo.
Seus médicos – cardiologistas e neurologistas – achavam que ela tinha hipertensão. Ou talvez vários
esclerose. Então, em 2006, ela teve um derrame, seguido de um segundo em 2013.
Ao mesmo tempo, sua mãe também estava enfrentando problemas de saúde – dores de cabeça, derrames e alguns micro
paralisia. Isso levou a uma série de testes genéticos, finalmente identificando a doença CADASIL em Karla.
Infelizmente a mãe de Karla morreu em 2018, três meses após o diagnóstico de Karla. Karla continua a trabalho, embora um terceiro acidente vascular cerebral no início de 2018 a deixou com alguns déficits cognitivos. Ela diz gerencia o dia-a-dia com medicamentos prescritos, incluindo antidepressivos. Ela também vê um terapeuta.
"Eu dirijo, cuido da minha casa. Estou cansada, mas ainda trabalhando", diz ela.
Até à data, nenhum dos filhos adultos de Karla sintomas da doença. "Eu ainda estou me acostumando com essas novas barreiras. O compromisso dos cientistas e eu vamos fazer me disponível para testes "dá esperança, ela diz.