Karla 
Mechanicsburg, Ohio
Age 40 at diagnosis of CADASIL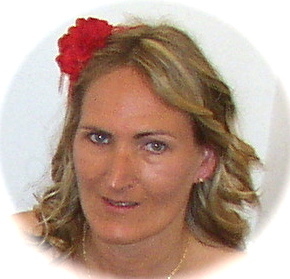 I never had headaches or migraines growing up, so when I started getting them when I turned 40 years old, I thought that was strange. I started seeing a neurologist and had an MRI. The neurologist told me I might have Multiple Sclerosis but he wasn't sure. He told me it was my choice on whether to go on MS medications or not. I chose not to. He began treating me for migraines.
One day at my job, while just standing and talking to a co-worker, it felt like a sledgehammer hit me in the back of the head. I was escorted to my desk to sit down. I could only stare. I could not talk or move. This felt like it went on forever. I finally came back to consciousness while a paramedic was talking to me in the ambulance. At the hospital they really did nothing for me, and I was released a couple of hours later. At home, I continued to have frequent "staring episodes" followed by migraines. I decided to have someone take me back to the emergency room. My episodes seemed to baffle the doctors. They sent me for an MRI, and after that they admitted me for more testing.
My father had been diagnosed with dementia when he was in his late forties/early fifties. He had a neurologist at this same hospital, and when he passed away at the age of 58 we allowed that hospital to do an autopsy. (Hence the reason I chose this particular hospital.) A neurologist came to my room after looking at both my MRI and my father's autopsy report, and sat down to tell me he thought I have something called CADASIL. He told me about it and asked for approval to do the genetic test. I was sitting there with my mom and my best friend. As the doctor was explaining all this to us, I looked over at my mom and she had tears in her eyes. As for me, I couldn't believe it, and I don't even remember much of what he said or if I was really listening to him.
A month later, my husband and my mom and I went to hear the results of the genetic test. As I sat there waiting, I felt really nauseas and anxious. When the doctor came close to me and said, "The blood test came back positive, and the skin biopsy also came back positive," I think I was in shock. Again, my mom had tears in her eyes. I can say that in some weird way I blamed my dad for this, which is really stupid of me for he didn't know what was wrong with him. None of us knew. I got very depressed and felt a wave of doom come over me. I thought back how bad my dad's condition got and how quickly it all happened to him. I kept thinking I'm going to die in 5-10 years. I thought how my mom had to deal with my dad at his worst, and in some ways I didn't want my husband to have to deal with me at my worst.
Now, over two years after my diagnosis, I still get bouts of major depression, but I'm finding that I have to live my life to the fullest no matter what. I have my good days and my bad days, but my CADASIL is not going away, so I have to live with it and be as hopeful that I can that there will be research done and a cure found.
I meet more and more people online at Facebook who have CADASIL, or who know someone who has it, or who have had a loved one pass away from it. There has to be even more people out there who have CADASIL and just don't know it yet because their doctors haven't heard of it.
My goal is to get the word out in any way possible.
KNOWLEDGE IS POWER!!
This patient story was initially featured in the December 2012 Inaugural issue of the EMBRACE  Newsletter published by the CADASIL Association. Thank you to Karla for her advocacy!