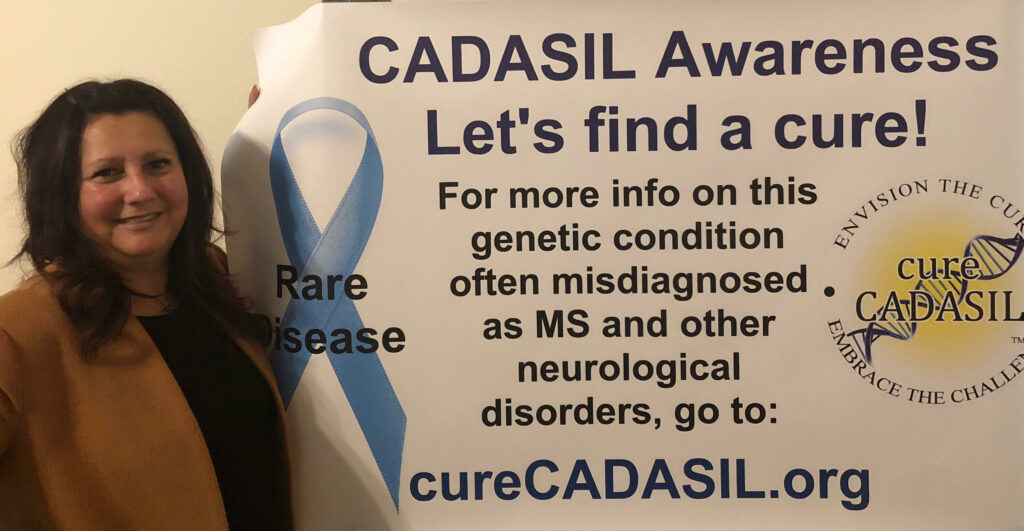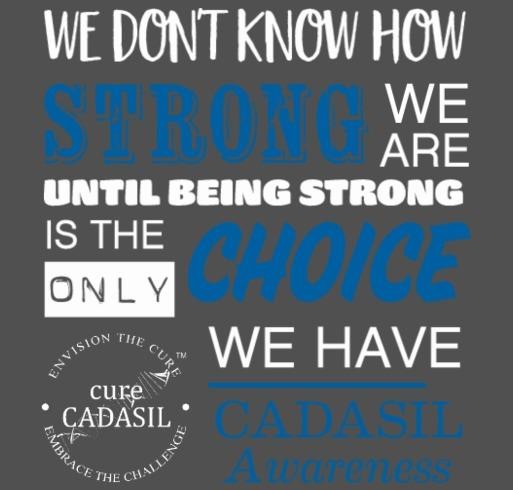 I have a story, as I was reading testimonies on cureCADASIL.org somewhat trying to find myself in their story's I realized I too have a STORY, a story to be told.
My story is one of a single Mother who raised four wonderful young adults. I juggled a career, family and survived all the ups and downs along the way. My journey is one of which I had not choice, I was born with a rare disease called CADASIL. CADASIL does not define or control me, it is not my story, it's a piece of my story, not my ending by any means, with the help of awareness and research toward a cure!
I am currently 53 years of age and was officially diagnosed with CADASIL, September 25, 2018. My journey toward diagnosis began as early as August 31, 2017.  While at work as I got up from my desk for a break I notice a slight tingling numbing sensation on the tip of my tongue. I recall saying to myself at the time that it was an odd sensation.  I returned to my desk and googled symptoms of stroke. I had no other symptoms other than a feeling of fatigue and a metallic taste in my mouth.
The tingling of my tongue passed within seconds and was replaced with a numbness just on the tip of my tongue that, combined with the ongoing metallic taste, continued throughout the weekend.  By day four of the continued feeling/taste I was urged to contact my daughter who worked for a HealthCare facility at the time. She immediately reached out for the healthcare advice nurse as I was telling her of my symptoms.  The nurse came on the line and set up an appointment for me to have an MRI scheduled two days later.
About two hours after the MRI was completed, I received a call from the hospital.  I was told I had a stroke and that I needed to go to the nearest Emergency Room to be seen. I was admitted to the hospital and a slew of test were performed, all of which came back normal. I was told the medical team  was suspecting either Multiple Sclerosis or CADASIL. Subsequently, I underwent a lumbar puncture they said would rule out Multiple Sclerosis and that test came back negative as well.
Shortly after my release from the hospital, I had a follow up appointment  with a Neurologist regarding my MRI results. The physician said from the MRI, it doesn't look to be CADASIL, but I could have a genetic blood test done to be sure. I was advised of the extremely high costs involved in taking the test for CADASIL and if positive there is no cure for this disease.  Unfortunately, this detoured me from taking the test. Yet I was still unsettled, without answers, only assumptions as to what caused the stroke. In the end, the physician told me I could plan on my life mirroring my Mother's life. My Mother passed away in October 2011. In hindsight, I believe my Mother also had CADASIL but was never diagnosed as such.
I changed my diet, my exercise routine, tried to change my stress levels immediately.  Months went on with increased headaches, extreme fatigue, dizziness, memory loss and small bouts of not knowing where I was at times, thank god this was resolved within seconds, but very scary, this became my new normal.
In April 2018 I went on a family vacation to Cabo San Lucas.  During the last few days of my vacation, after a small boat excursion, I experienced dizziness and equilibrium problems similar to Vertigo. Upon returning home a few days later the balance issue worsened.  I made an appointment to be seen and was told it could be an inner ear infection that was causing the unbalance. The physician decided to order another MRI just to be sure it wasn't another stroke, given my history.  The results from the MRI showed more scarring of the brain and a recent stroke within a seven day period. I was advised to get a second opinion from an outside facility Neurologist.
The Neurologist I chose to see made some changes in my medication, suggesting other alternatives to stop my  headaches. In addition he suggested getting the genetic blood test for CADASIL and to also have a sleep study completed.  I received my results on Tuesday, September 25, 2018. I tested positive for NOTCH3 gene, CADASIL. Before receiving the results I had done some research on CADASIL , but nothing could have prepared me for hearing the actual words that MY test was positive.  I am very fortunate and blessed to have a GREAT family support group. My daughter is the very best, my three sons helpful in staying positive, encouraging exercise and making sure I'm staying healthy. My significant other is a wonderful man that takes care of all that I can not do around the house and meals.
Let me not forget my Sisters. The hardest part in the beginning of this Journey is the dominant inheritance factor. Not only am I getting  love and support from my Sisters, they to are now faced with making decisions for and with their families regarding diagnostic testing for CADASIL.  Even more, my own children are facing this decision. It is difficult to know you  have a 50% chance of having been born with a Mutated Gene that is terminal at the age of 30.  Lots of choices and decisions to be made.
Thank you for reading, more to come on my journey with this illness.
Barbara
I am determined to do my best to help organizations like CureCADASIL.org to make Awareness of this Terminal Disease known and publicized.  To strive for fundraising efforts to help in Research and find The Cure for this rare disease.  
** All stories shared on cureCADASIL are the patient's personal account and does not reflect the views of cureCADASIL. Every patient has a story, and we want to share all stories for motivation and encouragement.