Blog Archives: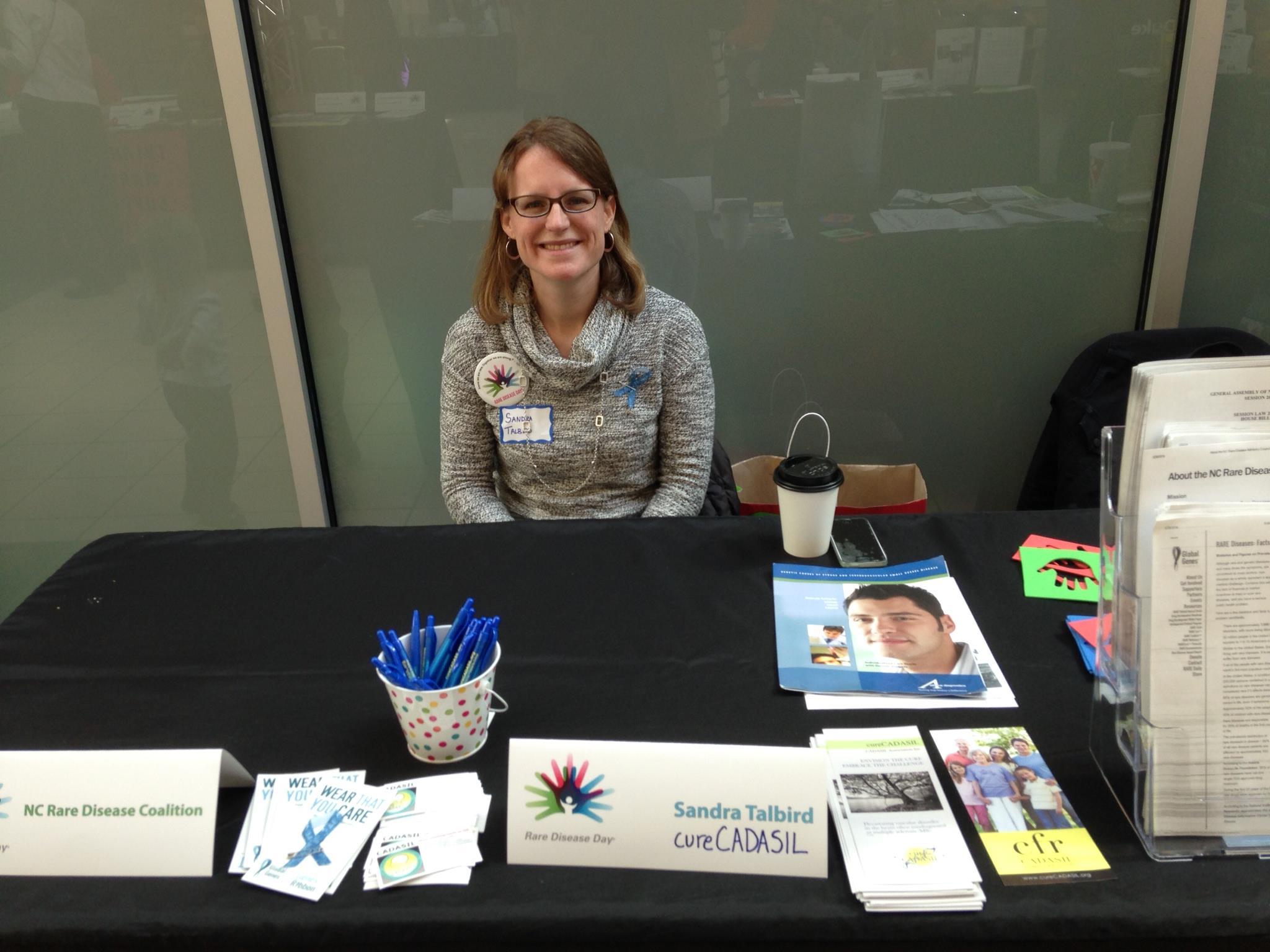 cureCADASIL Associate Trustee Sandra Talbird joined the newly formed NC Rare Disease Coalition last Fall. The Coalition is made up of rare disease patient advocates representing a variety of rare diseases, with CADASIL being the only adult-onset disease currently represented. The Coalition's mission is to advance the interests of the State's rare disease community by advising the NC Advisory Council on Rare Disease (a legislative body made up of appointed members).
Sandra participated on behalf of cureCADASIL and the NC Rare Disease Coalition in a Legislative Event on June 7, 2016 to thank the NC legislators for passing House Bill 823, which created the NC Advisory Council on Rare Disease last August (2015). North Carolina is the first state to pass a law creating an Advisory Council on rare disease, although other states including New Jersey and Utah have similar statewide advocacy groups. The June 7th event was successful in terms of making connections with other rare disease organizations, the local media, and potential research collaborators, including the UNC Gene Therapy Center.
You can get additional information about NC Rare initiatives on their webpage by clicking here.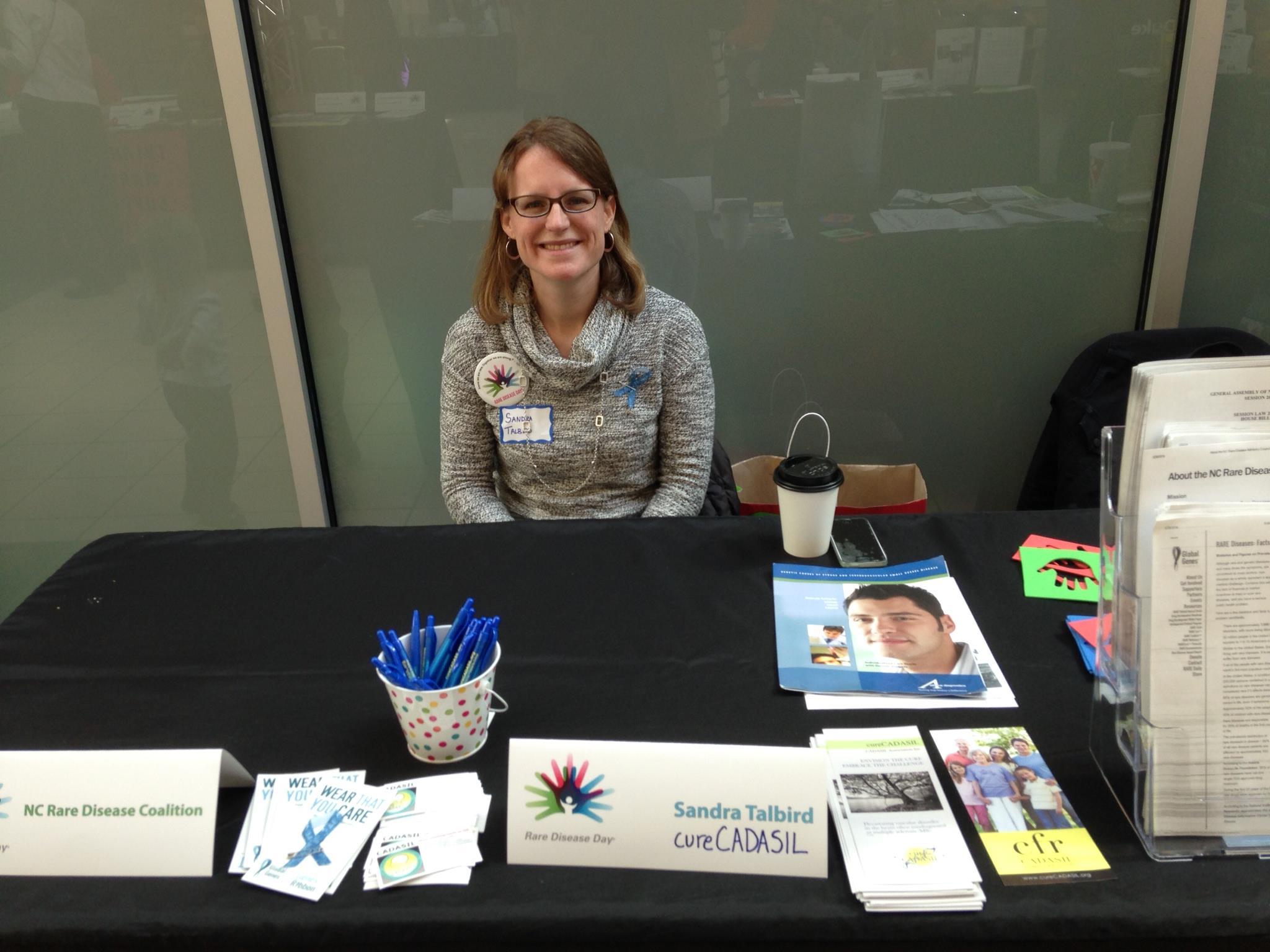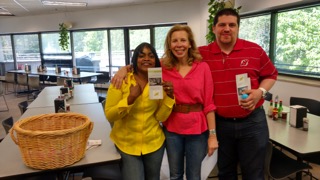 In May 2016, Tony and Janice Ragazzo helped organize a fundraiser at ESM Ferolie in New York, where Tony has worked for many years. The employees really pulled together and raised $550. The Ferolie Family generously matched what was raised, bringing the total donation for  cureCADASIL to $1100. We are so very thankful to the efforts of this company and family for supporting CADASIL research!  Great job!
On March 29-30, 2016, Trustees Ronnie Bradbury and Anne McGuinness attended the Alzheimer's Disease-Related Dementias Summit at the NIH in Bethesda, MD. CADASIL causes vascular dementia. Trustee Ronnie Bradbury talked with Dr. Martin Dichgans, a CADASIL expert from Germany. Ronnie spoke to the medical professionals and other attendees at the conference, relaying a personal story about her family which was well received by the audience.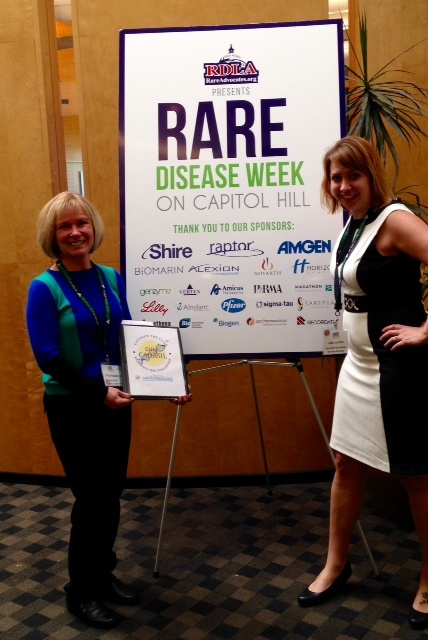 cureCADASIL Trustee and tireless volunteer Janice Ragazzo attended Rare Disease Week on Capitol Hill 2016 events hosted by RDLA in Washington, DC to spread awareness of CADASIL to our members of Congress. During this exciting week, rare disease community members from across the country learned about federal legislative issues, met other advocates, and shared their unique stories with legislators. In addition, this year Janice delivered letters written by various CADASIL patients to their state's representatives. Everywhere she goes, Janice displays the cureCADASIL logo in photos.  Janice is also working with NY Representative Maloney's office to promote CADASIL being added to the medical diagnosis ICD-10 code.  Thank you Janice!  Below is a photo of Janice in action (look for the woman holding a CADASIL sign to the right by the wall!) and a video highlighting this wonderful event.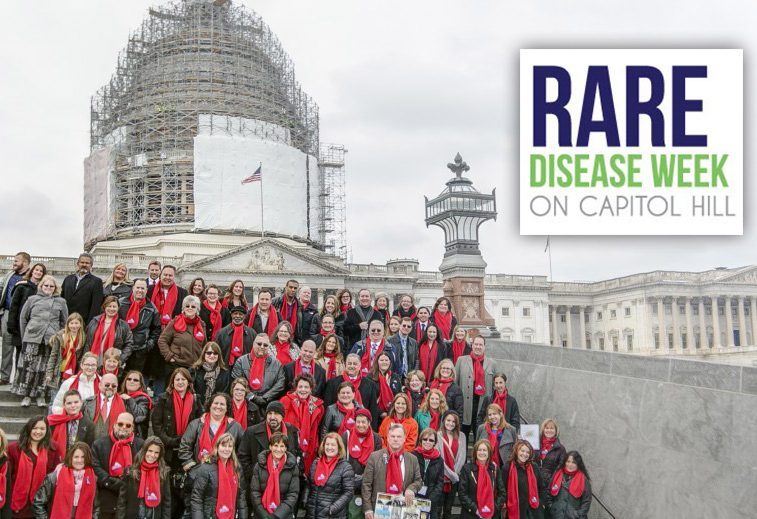 ********************************************************************************************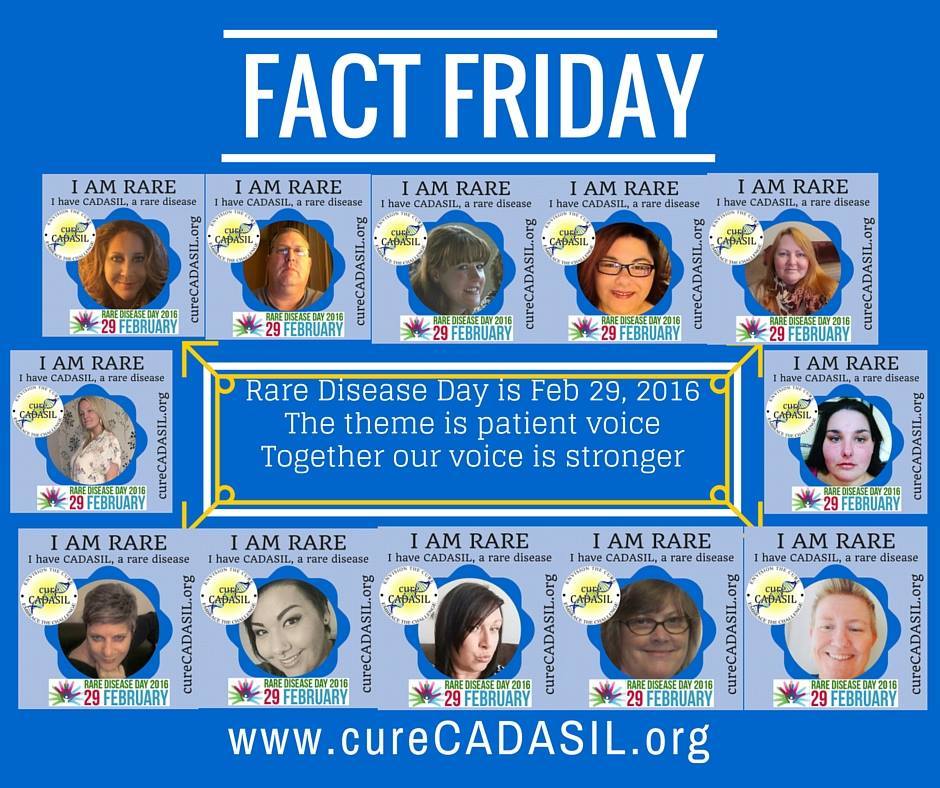 In honor of Rare Disease Day in February, many patients in the global CADASIL community shared their photos on social medial for awareness. Some of these photos were featured in cureCADASIL Fact Friday FaceBook posts online.  This was a fun and effective way to connect the community and inform others about CADASIL. Thanks to everyone who participated and to Janet Mills for organizing!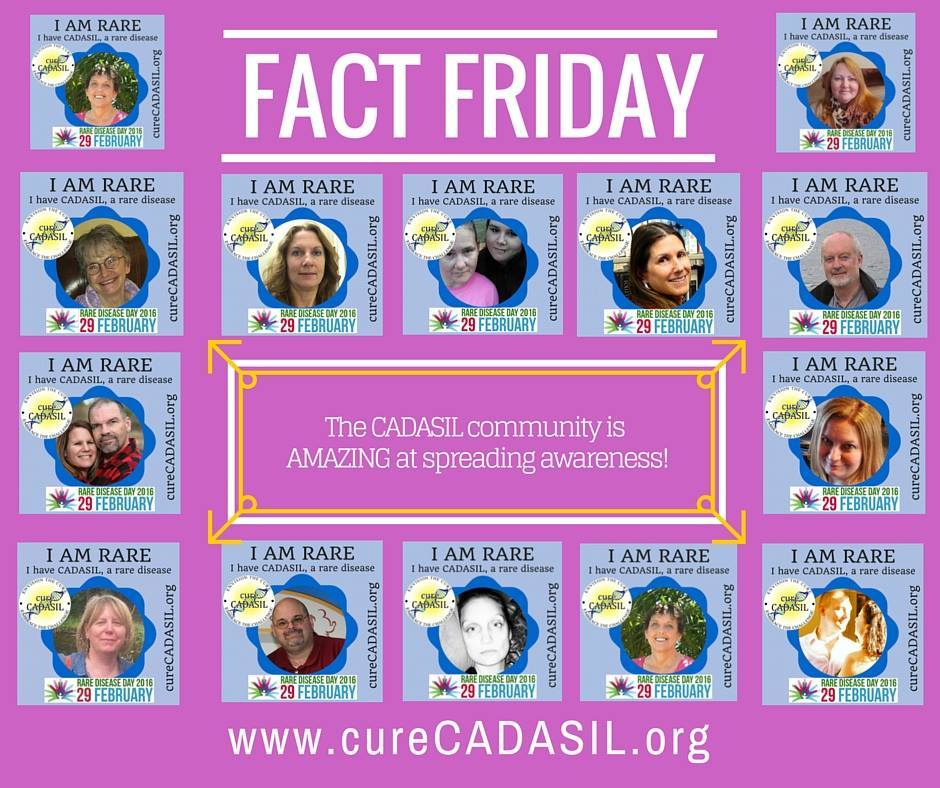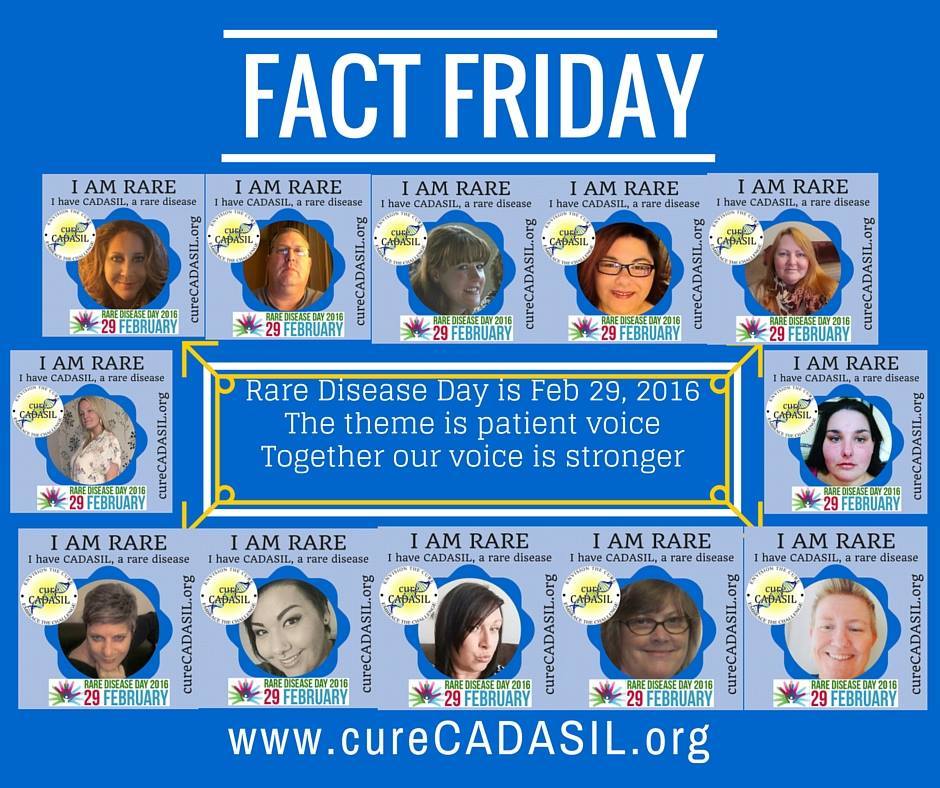 This article was originally featured in  a 2016 issue of EMBRACE newsletter published by cureCADASIL – thank you to everyone who contributed and to Janet Mills for assisting with pictures!